"A magical game, interactive fiction with a heart, soul, and style." - Gamebook News
Here's what people are saying about Nocked!
Nominated for DragonCon's Best Fantasy/Sci-Fi Mobile Game of 2018. (8/31/2018)
2-time Award-Winning Game at the MAGFest Indie Videogame Showcase, 2018.* (1/6/2018)
Winning Showcase Game at the Wordplay Festival in Toronto. (11/18/2017)
9/10: The Sixth Axis says Nocked! is "an absolute necessity for anyone hankering for something unique… A phenomenal achievement." (7/30/19)
4.5/5 stars: Gamebook News calls Nocked! "A magical game, interactive fiction with a heart, soul, and style." (7/17/2017)
4/5 stars: Pocket Tactics says "None of this would work without some quality writing, and here Nocked! delivers in droves…the writing is so good it does a great job of supporting [your] decisions." (7/24/2019)
90/100: Zonezter notes that after building a base in the trees, they were "inspired to start and draw a sketch of what I imagined the tree house would look like." (7/8/17)
8/10: The Culture of Gaming says "Rarely does a game manage to take both an unoriginal tale and an unoriginal design, and make something original with it… [Nocked is] a well-executed resurrection of an old tale and style, people who love this style of game will find this is well worth a try." (7/18/19)
iOS RPG site calls it a "wonderful gamebook-style adventure with deep resources management". (9/19/2017)
The SML Podcast says "the writing is fantastic, the story was incredibly engrossing" and "this is absolutely worth picking up and playing". (7/21/17)
Rock, Paper, Shotgun calls it a "fast-paced, playful narrative", and notes that "under Nocked's wordy carapace lurks a surprisingly elaborate strategy game." (7/18/19)
Emily Short reviews the game here, and notes the "...huge amount of narrative consequence for your choices. I played a good bit, but I haven't talked much about the plot because I can't be sure that your plot experience will be anything like mine." (7/8/17)
Ormie Reviews plays through the first 20 minutes of the game. He recommends it! (8/1/2019)
Darkovika Does Let's Plays plays through an hour of the game. She loves it! (8/14/2019)
Crate and Crowbar, a bunch of British game designers, talk a bit about Nocked, and hit the nail on the head with its design philosophy. (9/20/2019)
72/100: RPG Fan noted that "the music captured the intensity of confrontations, the ethereal nature of magical places, uplifting heroic triumphs, and crushing defeats — all with aplomb." P.S. The soundtrack is also for sale! (7/28/2019)
7/10: Geeks Under Grace says "if you want to escape into a world where just about anything could happen, check this one out." (8/29/2019)
6/10: While The Doctors of Gaming were not thrilled with the game, even they could not deny the "good environmental writing, evocative illustration, and subtly integrated musical score." (7/17/2019)
*1st place: Best Booth; 1st place: Best Presence
Embark on a fantastical journey through Sherwood Forest and beyond.
You are Robin of Locksley. Hounded from your home by the Sheriff of Nottingham, take control of your fate in this extravagant illustrated role-playing game. Rob from the rich, rally the people, build a settlement, and battle the Sheriff of Nottingham for control of Sherwood Forest.
Disclaimer: There's no live-action in the game, but these spoof videos give a sense of the types of choices you can make on Robin's journey.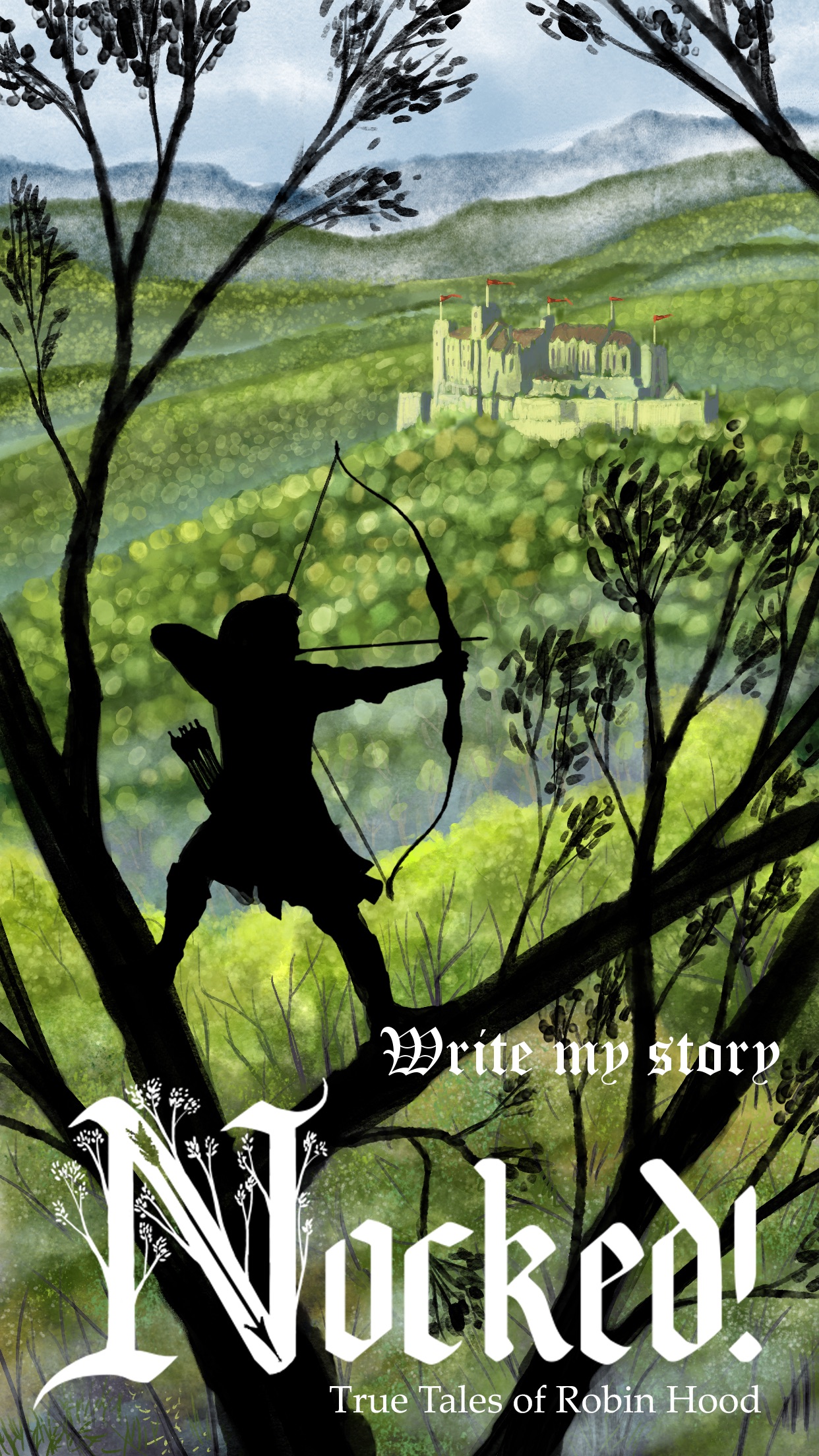 Publisher: Andrew Schneider
Initial Release Date: July 8th, 2017; Desktop release July 17th, 2019
Platforms: iOS 8 and up (iPhone, iPad, and iPod Touch); Mac & PC coming soon!
Software Version: 2.01
Category: Games, Fantasy RPG, Interactive Fiction
Price: USD $4.99 iOS, $19.99 Desktop
Average Rating: 5/5 stars!